Trip to Brazil - 8
Got up late, on the grounds that I wasn't feeling well. Headed over to Copacabana to change money. I ended up changing just $20, at the official rate, barely enough to cover taxi fare and lunch.

Copacabana is much more crowded than Ipanema. Mentioning the jaunt to Roberto later, he commented that he lived there for 2 years before moving to Ipanema, and Ipanema is "a million times better." I think I'd concur on the preference, though withholding judgment on the order of magnitude.

Had lunch at a romantic-looking outdoor café overlooking the beach: chicken soup, which sounded innocuous but turned out to be a huge tureen with very hearty chicken, rice, vegetable soup. These places serve you like you're Arnold Schwarzenegger in disguise. However, the meal was diminished by the appearance, every minute, of some hustler who wanted to sell me something. In half an hour I was offered maps, T-shirts, metal junk, license plates, lottery tickets, peanuts, caps, dance, music, and companionship. The music consisted of bad performances of "Girl from Ipanema" and "La Guantanameira" on guitar and tambourine; the companionship was visited upon the next table: two black girls sat down by two unaccompanied males, and started negotiations (which included kisses and caresses from one girl). Negotiations apparently broke down, since the girls disappeared.

(This is like the Plane From Hell. When we boarded, oxygen or steam was gushing down from the cabin ceiling like dry ice. The lights keep flickering off, and my pen is dying. If we don't make it-- whoever reads this-- call my agent. Rates are higher for one's last work, especially one involved in an airline tragedy.)

Anyway, I escaped from Open Season On Tourists Café and took a cab back to Ipanema. Walking up Farme de Almoedo, I encountered Roberto and Adriana at Via Ferme, the restaurant she took me to Sunday. She was eating this time. We made some arrangements for tonight-- I wanted to take Roberto out for dinner.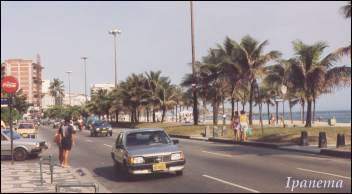 I wandered about Ipanema a bit, attempting to shop, but saw nothing I liked; I only bought a fashion magazine for Tina. (Harry can have some cruzados. That's what he gets for not knowing Portuguese.) I got some ice cream and suco de manga at Chaika, and ended up dripping ice cream on my hands, without a napkin. I walked awhile feeling like a leper till I came to a doceteria, where I bought some mineral water. Mango juice, by the way, is pretty nasty.
Went back to Roberto's, did some packing, and crashed for awhile; so did Roberto. He and I were going to go out to buy Brazilian music, but time slipped by and he was still zonked out-- finally, I woke him up, just short of using brute force, at 6, the last time I calculated we could do everything and still get me to New York.
He was groggy, but it was nothing a warm brisk walk down Visconde de Piraja wouldn't cure. We went to a records and tapes store (uma loja de discos e fitas) and picked out four tapes-- Joyce sings Jobim, an Elis Regina, a multi-artist compilation, and a samba collection. Despite negotiation, the store would not accept Visa, tho' a Visa sign was displayed on the counter; their line was that they'd only recently taken on Visa and didn't know how to do it. Many places are reluctant to take credit cards, as the company doesn't pay for 30-40 days, which means a serious loss due to inflation-- this place took cards with a surcharge. Roberto ended up putting it on his MasterCard, and I paid him back. This put a severe strain on my remaining cruzados, and I was embarrassed but relieved when he told me I didn't have to pay for dinner, due to the unexpected cash outlay.
For dinner we took a taxi to Leblón, and ended up at the Pizzaria Guanabara. I ordered pizza à Portuguesa, which turned out to be onions, ham, egg, and a few other things I couldn't identify. I also drank my last guaraná for a long time.
After a bit Adriana joined us. Conversation was light. I assured them that the Paulistas with their talk of thievery and civic disorder had not put me off Rio. Adriana thinks the Paulistas shouldn't slander Rio, since she doesn't say bad things about São Paulo. She repeated the old joke that the Paulistas work hard 11 months a year so they can spend a month having fun in Rio.
There was a little banter about marriage, to the effect that Adriana expected they'd get married, but Roberto was resisting-- at least, this was Roberto's joke; Adriana only looked annoyed. When he said that she was studying hard so she could be his assistant, I suggested that perhaps he would become hers, which got a big laugh (from both, but more from Roberto).
Adriana seemed bored or restless, and we ended up leaving quickly. (Roberto and I had cafèzinhos, but she didn't.) As Adriana's car was now available, we drove back to Roberto's.
I finished packing, and settled accounts: Cz$7000 to Adriana for dinner Sunday (she was dismissive, but what was I going to do with the cruzados?), and Cz$ 26,000 to Roberto, some of it in the form of my last $20 bill, for the tapes.
I let Adriana read the Greenburgs' guide to Rio, which seemed to interest her, tho' her only comment (excepting some asides to Roberto) was that the Greenburg were wrong to claim that arroz com frango (chicken with rice) was a Brazilian specialty-- it's just another dish. (Just as well; I never had any.)
At 9.30, it was time to go to the airport. Roberto proposed to drive me there. There ensued a bit of discussion; it appeared Adriana didn't want to go. All I understood was Roberto's reference to ida e volta, indicating that the trip there and back would be short, and her rebuttal that o carro é meu-- "It's my car." But nothing was addressed to me, and there didn't seem to be any real anger involved. We ended up indeed driving to the airport, and presented with this fait accompli, cheerfulness resumed. Adriana pointed out that the streetlights on part of the road were out, and weren't fixed because the workers responsible were on strike. Strikes are popular these days (with strikers, I mean).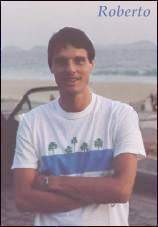 At the airport, Roberto came in and made sure I was in the right place doing the right thing. He had me as a guest in his living room for 4 nights, took me out to dinner twice, drove me around the Floresta da Tijuca, and all for someone who's simply a friend of a friend-- and on top of this he said I could come back and stay with him again! Really, words don't suffice here, though I did, of course, offer similar hospitality to him at low rates. This is a superlatively Nice Guy.

Well, 21C Rio in my book will certainly have a Rua Doutor Roberto de B-- P--.

At the airport I waited interminably to check in. During this time a stranger came up to the girl in back of me, asked her to mail a tape for him in the States, and left. This offered the line much puzzled amusement. The girl accepted the tape... if it explodes midflight, this is the story. The guy said he was from Holland, and wanted the tape mailed from the U.S. because of the unreliable Brazilian mails. No doubt a spy, but for whom?

After checking in, at the cost of Cz$ 6,300 airport tax, I went over to the "Boutique do Brasil" on a last-minute hunt for souvenirs. I ended up buying a quartz pig and owl, which I paid for in travelers' cheques (parallel rate!) and cruzados. So the gift situation isn't entirely bleak. (One of the tapes is also a gift.) I also got some change in dollars ($11), which I hope will cover any costs involved in moving from JFK to LaGuardia.

Hurried through the police point, where the Federal Police saw no reason to keep me in Brazil, and on to Gate 19 to rush onto the plane. Managed to get my baggage onto the overhead bins. And finally we were off. I'm seated, as always seems to happen, over the wing, and saw almost nothing as we took off.

Just now had another Pan Am meal. Even though it's midnight and presumably everyone has eaten, Pan Am's thinking is that a 9-hour flight needs a dinner. And of course no one refuses it; for a $750 flight we're not going to pass up anything we've got coming to us.

There's a faint acrid smell in the air that is either marijuana or the fuselage. Most everyone is asleep. English has become the ambient atmosphere; no beachware is in sight. We're on our way home.

Little to report on the last leg of the journey-- mainly attempts to sleep, more airports, the indescribably American feel of New York. All of a sudden it was cold. My sweater (unused in Brazil) and jacket were insufficient.

After two weeks of immersion in Portuguese without a fellow American to slip into English with, hanging out with Brazilians who at best spoke good English but with whom one must avoid slang and even sudden lurches of speed or syntax, it's odd to be back in an all-English environment, where nuances and accent are again perceptible, where Portuguese is about as much on people's minds as Sanskrit.
The trip was incredibly cheap, except for the tickets. Airfare was $1560, and everything else was $575.
---

A few last-minute memories or remarks:

The Brazilians tend to add a final -e (pronounced ee) to foreign words ending in non-Portuguese consonants. Thus Hollywood (the name of a popular cigarette) is pronounce o-li-woo-ji, and club is pronounced cloo-bee.

I like the Brazilian thumbs-up gesture, which in various contexts can mean Tudo bem, Obrigado, Entendo, OK, or De nada (Fine / Thanks / I got it / OK / You're welcome). We have the OK sign, but by contrast it's limited and uninvolved. The thumbs-up is a momentary burst of solidarity.

I don't think I've mentioned the ubiquitous stands selling tacky Christmas cards. This is evidently one more of America's gifts to world culture. As Ali Mazrui noted, speaking of culture, America appears to the rest of the world as the bearer of popular culture: Coke, McDonalds, Steven Spielberg, Garfield (very big in Brazil), Walt Disney, jeans, rock music, sandwiches, laundromats. You may name a fine restaurant in French, but the local fast-food chain is Bob's. You'd think we had no intellectuals at all. And in the European sense maybe we don't. They didn't name that cigarette Yale Drama School.
---
It's evident that I've visited urban South America. The land of the campesinos, the cash crops, the appalling poverty, is still strange territory.

I still think Brazil has immense potential... Its problems are obvious, but its position in the Third World is almost unique: a large absolute wealth, abundant resources, a large internal market, a large middle class, a single tho' diverse culture, peaceful surroundings. When Brazil really comes to believe in itself, it will be a great power.

[ 2002 note: Not long after returning, I started dating that Peruvian girl. A year later, I married her. ]
---