Trip to Brazil - 5
Woke up early-- too early-- to be driven to the Praça da República, where I could catch the bus to the airport-- Cambica. Hurried goodbyes to Lica, who was double-parked. (No kiss from Shirley, but she did get up early to say goodbye.) A groggy ride to the airport. Arrived much too early. I'm at the airport now-- if you ignore the Portuguese signs and conversation we could be in Boston-- catching up on my journal. There was a very beautiful girl across from me with a hammer-and-sickle logo on her sweatshirt, but she's gone. Well, it's time to check in, and travel, hotel-less, Frommer-like, to Belo Horizonte. Well, here I am eating alone in the restaurant of the Normandy Hotel. Where are Arnold and Harriet Greenburg? It's all their fault.

We got a little lunch on the flight (VASP 210) to Belo Horizonte-- salad, assorted meats, bread, a little éclair. They gave us newspapers, too-- o Jornal dos Negócios, or something. I could check on the economic forecasts (bleak) and the stock market (up today both in Rio and São Paulo). I should have checked for openings for systems analysts.

The airport at Belo Horizonte is very modern too; one wonders if Brazil had any airports at all before 1975. It's also distinctive in that it has no front wall-- the airport lobby opens directly onto the street. Rather nice today, but what about when it rains? Maybe it doesn't.

I corralled a taxi (a VW), and asked, optimistically, to go to the Hotel Normandy. It turns out the airport is about 20 km from the center, so we had a bit of a drive. On the way is the suburb of Pampulha, which Oscar Niemeyer cut his megalopolitan teeth on. Evidently Juscelino Kubitschek was mayor of Belo Horizonte and then governor of Minas Gerais, before becoming president of Brazil, and he had Niemeyer do his stuff here before attacking Brasília. Unfortunately I don't think I'll be able to see it; I'll be in Ouro Prêto all day tomorrow, God willing.

I traded a few lines in Portuguese with the driver, who was quite nice-- he said Ouro Prêto was muito bonito. He asked if I was German. I was kind of tickled; I've never been mistaken for a non-American before. But why German? (In a way he's right, of course, but he wouldn't know that.)

Belo Horizonte appeared on street signs, approached, and became an interminable downtown, where I was let off in front of the hotel, with a "Boa viagem!" I marched up to the desk and, for the 1st time in Brazil, asked for a room. Vindicating Frommer, they had one. About Cz$ 25,000 a night, which isn't bad so long as I can get the parallel rate. (As you'll recall, there's a 60-70% difference.)

I went up to the room and vegged for awhile-- I needed it. The room has a bath, big bed, television, and a mini-fridge stocked with goodies. Very luxurious for a Frommerian, especially one used to Europe. But apparently the South Americans don't go anywhere without a shower.

After a bit too long a nap, I went out to do laundry. The hotel's lavandaria was closed; a bellman walked me over a block to negotiate with another lavandaria, but they couldn't do it today... so I thanked the bellman, and walked, laundry in hand, about ten blocks to a laundromat. After a little exchange, in Portuguese and English, the deal was worked out-- come back in 2 hours.

Now I had 2 hours to kill in Belo Horizonte, so I walked around taking pictures. I stopped in at the Museu Mineiro, which I half-expected would be a mining museum, but turns out to be an art museum-- mineiro means both a miner and an inhabitant of Minas Gerais ('General Mines'). They were showing an exhibit of black folk art, and paintings by Silvia Ática-- smeary gray canvases that suggested Old Masters out of focus.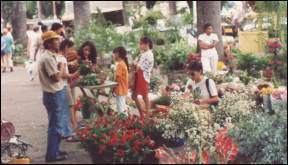 My impression of Belo Horizonte (Brazil's 3rd largest city, with 2.5 million people) is that it's a bit grittier than São Paulo, more crowded, and is more into cafés. Avenida Paulista had lots of people, but the streets near the hotel are positively jammed. The population seems to include more blacks and less Japanese; and despite the murmurs you hear about racism in Brazil, I think they're doing better than we are on a personal level: you see people mixing, and mixed couples, all over, not just in a few enclaves like Oak Park.

I'll never be a great photographer-- I hate to intrude into people's faces. I'm getting a little more nervy, however, on the grounds that since I'm already arousing comment and incredulity by being the only person in Minas Gerais with a camera, I might as well use the damn thing.

I think my dad would like Brazil, but I doubt if my mother would. The Brazilians like to lounge in doorways and stare at you. Me, I try to look unintimidated, and then I trip on the sidewalk. ("Êles não se chamam 'estranheiros' por nada.")

On the Praça da Libertade, I stopped for sorvete at a Brazilian fast-food place called Xoco's, and watched a rowdy children's party going on. I also stopped in the Igreja da Boa Virgem and offered my respects to God, with about twenty others. There was a placard on the wall denouncing The Last Temptation of Christ.

I wandered back to the hotel, caught a glimpse of a demonstration against overdevelopment in Amazônia, and headed back to the laundromat. The laundry was done, and I fell in love with the girl at the counter-- dark, friendly, brown hair cropped short, red lipstick. She asked where I was from, and why I was in town... "Para encontrar você, senhorita-- vamos jantar e dançar," I didn't say, and why not?

I went back to the hotel and ate at the hotel restaurant, also recommended by Frommer guide-- in fact I'm still there. I had churrasco à campanha, which turns out to be a big grilled steak, with fries and the inevitable farofa, plus a pitcher of this vinaigrette-and-vegetables stuff, which is quite good, but which I can't figure out what to do with. I tried it on the steak, but for all I know this is like putting mustard on your potatoes.

It's good food, but it's not a hip place-- there's still only 2 other customers.

Here, when you're served a dish, the waiter puts some of it on your own plate, and leaves the kitchen's dish at the table. The portions are mostly too big. You also normally get bread, and perhaps carrots, cucumbers, olives, or whatever, to start with, and you end up with coffee.

While I was eating it's been raining, another first. Lica says it often rains in the afternoon in São Paulo, and Manaus is famous for an afternoon shower at 6 p.m.-- "I'll meet you right after the shower," they say. But in Piracicaba, on higher ground, it's usually sunny.

If this is Saturday, this must be Ouro Prêto. (I feel a bit disoriented because the weekend has been a blur of cities-- I'm writing this in the Rio airport.)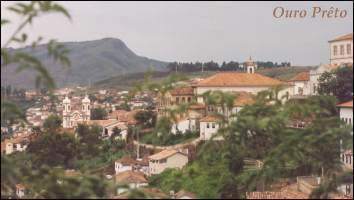 Got up at 8.30. No hot water in the shower. Breakfast in the breakfast lounge on the 3rd floor-- again, almost alone. Breakfast consists of bread, juice, melons, oranges, pineapple, cheese and sausage, all self-serve, plus hot coffee and milk, jam and butter, presented by the waiter upon assuring him that one is indeed staying in the hotel. The orange juice is, as everywhere in Brazil, sweetened.
I walked to the bus station, stopping in the square in front to gawk at the street vendors and con men. People were selling fruit, popcorn, dolls, and noisemakers which sound like chickens-- very loud chickens. There were also little booths for gambling: a roulette-type wheel for betting on soccer teams, and a similar game where cubes with the teams' names are rolled. I suppose there had to be a trick, but couldn't guess.
The bus station (a rodoviária) is huge and very busy. You can get anywhere in Brazil from here, and most of Belo Horizonte was there doing just that. The longest line (I kid you not) was for Ouro Prêto/Mariana. I was in it so long I missed the 11:00 bus, and I was worried I wouldn't have enough money anyway. How much would a 100-km bus ride cost?
Finally I was at the front, and the clerk mumbled something that sounded like doze mil. This I didn't have, and I was cooking up febrile explanations in bad Portuguese when someone helpfully said "Dois"-- 2,000, not 12,000 cruzados. This was fine-- I could even get back tonight. I paid at the caixa, and had half an hour to kill before the bus left.
I wandered back to the square taking pictures, then sat down in the waiting area of the bus terminal. A guy came by and asked if this was Plataforma B. "É," I said, laconically but correctly, and got a thumbs-up thanks.
The bus trip lasted almost 2 hours and I slept through most of it. There were various stops along the way, and, toward the end, some incredible vistas, and roads that my mountain-averse mother wouldn't have enjoyed. Finally we pulled into the minature Ouro Prêto bus terminal.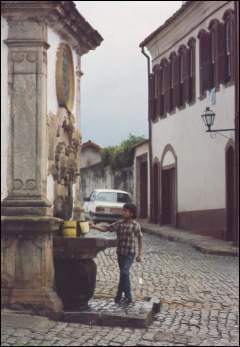 On the way into the city I talked with a girl who had also come on the bus. She too began by asking if I was German... it must be either a) the camera, or b) the quiet clothes, or c) the Teutonic good looks. She was visiting her sister, who is studying at the university in Ouro Prêto. She herself works as a dental assistant, if I'm not mistaken. All this was conducted in Portuguese. She said I spoke well. She looked good. I smiled. It was hot.
Oops, thought I was writing a Hemingway novel for a minute.
Ouro Prêto is a national monument-- hell, an international one-- the whole town kept as it was a century or two ago. Nestled in the mountains, with cobbled streets, Hispanic-style buildings, churches on every hill, it's wicked quaint. I was soon shooting pictures like a banshee-- really, every street, every mountain vista, every doorway is worth recording. I do think Brazil has made a mistake in embracing the Modern Style, with such uniformly unattractive results; its native style is much nicer.
Ouro Prêto is beautiful, and it knows it. It's the most touristy place I've seen in Brazil-- tho' that isn't saying much. People want to sell you gems-- Ouro Prêto is an old mining town-- not to mention film, postcards, food, and other touristic needs. Visiting the Museu de Mineralogia, I heard English for the first time since Rio-- from a non-Brazilian, I mean. A group of exchange students was touring the museum, and wherever I went there they were. Oh well, still a far cry from London-- and judging from the guest book, most of the visitors are Brazilian, tho' they do come from round the world.
The Mineralogical Museum amounts to one room, with stones from Ouro Prêto and all over the world-- some quite striking, some not. The main thing I learned there was that topaz and quartz are both the same thing, and amethyst is a purple form of it.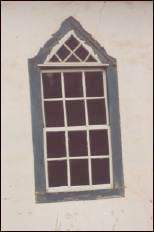 Next was the Museu dos Inconfidentes. Ouro Prêto was the site of the first rebellion against Portuguese rule; the ringleaders were executed, beheaded, quartered, their houses burned, and in general treated in a way that expressed the displeasure of the state. Now they're heroes, variously called the Tiradentes or the Inconfidentes, although they seem pretty sure of themselves. The rebellion was in 1789, a generation before independence, and late enough for the Tiradentes to be influenced by the success of the American revolution. This Museum is full of artefacts of old times, from swords to beds to carriages-- it's about the first time that I've had a real sense of Brazil as an old country.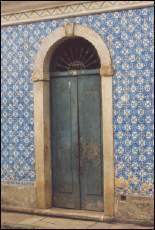 Other highlights were a visit to an ornate old church, lunch at a country-style restaurant (pork, feijão, rice, and couve), and an encounter with the only other person in Ouro Prêto carrying a camera-- Japanese, of course, and of course he had me take a picture of him in front of the Praça dos Inconfidentes.
I had a bus ticket for 8 p.m., and frankly had a bit much of the place before then-- it's hard on the feet, and the streets are nearly vertical. I had a couple of drinks (guaraná, suco de laranja), then headed back to the bus station. The bus ride back was-- well, dark.
Back in Belo Horizonte, I had an exciting time watching Brazilian TV. They have a lot of U.S. movies-- and boy, we don't show any discrimination in our exports-- but few U.S. series. Some of the Brazilian-made shows I've seen: Praça Brasil, a variety show, prone to silly, almost vaudeville humor; a game show whose host declares that he would make a good president (and having elected Ronnie, how can we complain?); Vale tudo, a soap opera; any number of news shows; a couple of surreal shorts, and O xou da Xuxa, of which more later. Tonight I watched part of a Meryl Streep movie in Portuguese. One wonders how well the Streep translates. You'd lose the accents... but maybe this is an improvement.
---