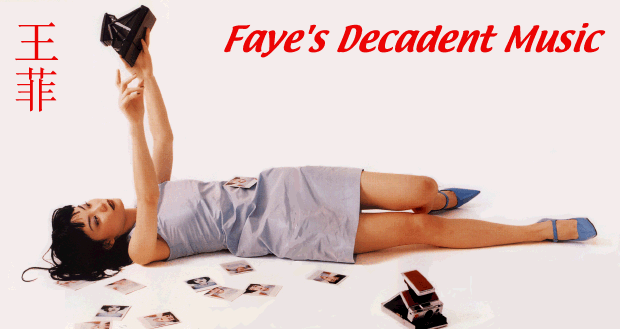 Chinese and English lyrics from Faye Wong's "Faye's Decadent Music"

Eyes On Me -- It has nothing to do with the album, but since folks come to this page looking for it, I hate to disappoint.

track [ 1 ] [ 2 ] [ 3 ] [ 4 ] [ 7 ] [ 12 ] [ 13 ]
---
Who's Faye Wong?
An actress in Wong Kar-Wei's Chungking Express-- the fast food assistant in the second part who falls in love, in an obsessive teenage way, with a cop. The Chicago Tribune critic got it exactly right: Faye Wong is one of those actresses the camera loves. You can't keep your eyes off her.
One hell of a cutie.
One of Hong Kong's top pop singers. Born in Bêijing, she sings in both Mandarin and Cantonese. (She looks young, but she's 27.) The Cocteau Twins contributed two songs and a good deal of inspiration to one of her latest albums, Fúzào (Impetuous), on which you can hear, of all things, Chinese scat-singing.
The singer of the theme song in Final Fantasy VIII.
This album

Although it's not hard to find Faye tribute pages, it's not so easy to find her lyrics translated into English, so I've tried to translate a couple songs from her 1995 Mandarin album Fêi mîmî zhiyin (Faye's Decadent Music-- the name mocks official condemnations of pop music). Dexter Tay has also kindly contributed a few more translations, and Mufei Li (a.k.a. Ranskaldan) has corrected many of my errors.

The album is a tribute to Teresa Teng, one of the most popular of Taiwanese pop stars over the last 20 years (successful in Japan and mainland China as well), until her sudden death in 1995.

I've heard some of these songs in both Teresa's and Faye's versions, and I definitely prefer Faye's. In American terms Faye sings light rock, while Teresa's songs are light pop, slower, and heavy on the schmaltz. I also like Faye's voice better. Teresa has more of a trained voice, vibrato and all. Faye's voice sounds natural, unforced.
How do you score Faye albums?
Head over to Chinatown. Have some dim sum, or maybe some Szechwan chicken. Find a store that sells CDs and ask for albums by Wáng Fei.
The translation
In my translations I'm somewhat handicapped by a) cheap dictionaries and b) not actually, when it comes right down to it, knowing Chinese.

I've included the original Mandarin lyrics, so that you can a) supply your own corrections, and b) sing along. To accommodate the limitations of web pages, third tone is indicated with a circumflex (ê) and first tone is unmarked.
Borrowings
I'm happy when people link to my page. If you put the lyrics on your own page, please give credit, or provide a link. It takes work to translate and that work shouldn't be taken without credit (as some people have done).
---
Track 12: Yòu jiàn chuiyan (Again I see the cooking smoke)
Lyrics: Hâi Zhâosài
My favorite song from the album. The high vocals at the end are beautiful.

Yòu jiàn chuiyan shengqî
Again I see the cooking smoke rising
Mùsè zhào dà dì
Dusk covers the wide earth
Xiângwèn zhènzhèn chuiyan
I want to ask the gusts of smoke
Nî yào qù nàlî
Where you are going

(Chorus)
Xiyáng yôu shiqíng
In the evening sun there's poetry
Huánghun yôu huàyì
In the dusk there's art
Shiqíng huàyì suirán mêilì
An inspiring poetic scene, but so beautiful
Wô xin zhong zhî yôu nî
In my heart there is only you

Yòu jiàn chuiyan shengqî
Again I see the cooking smoke rising
Gouqî wô huíyì
It evokes memories in me
Yuàn nî biànzuò câixiá
I wish you'd become the color of the dawn clouds
Feidào wô mènglî
Fly into my dreams

(Repeat chorus 2x; then repeat last 2 lines of chorus)
---
Track 2: Nî zài wô xin zhong (You are in my heart)
Lyrics: Inoue Tadao, Yamagami Michio

Nî shuoguò nî yidìng huì lái zhèlî kànkàn wô
You said you'd certainly come here to see me
Nî kê-fôu zhidào wô tiantian zài pànwàng zhe nî
Do you know how every day I long for you
Bié wàngliâo nî céng shuoguò
Don't forget you once said
Duì wô yôu shenshen qíngyì
You have deep feelings for me
Xiwàng nî néng kuài huílái
I hope you can return quickly
Ràng wô zhâo huí wângrì wenxíng
I'm waiting for yesterday's warm feeling to return

(Chorus)
Qîng nî liúxià bù zài yuân lî
Please stay, don't go far away again
Ting wô shuo jù zhenxinde huà
Let me speak from deep in my heart
Zài wôde xin zhong duome ài nî
In my heart is so much love for you
Dàn yuàn wô yê zài nî xin lî
I hope I am in your heart too

Yào jìzhù wô duì nî
I want to remember saying to you
Shuode mêi jù zhen xinhuà
Saying every word from my heart
Yào zhenxi wômen liâ zài yiqîde tiánmì shíguang
I want to treasure the sweet days when the two of us were together
Wàngdiào nà biélî shíhòu
Forget that time of absence
Wô liâde tôngkû jìmò
Our pain and loneliness
Yê qîng nî qianwàn bú yào hênxin bâ wô wàngjì
And please don't ever heartlessly forget me

Qîng nî liúxià bú yào zôu
Please stay, don't go
Wô shì nàyàng zhenxin ài nî
I really love you so much
Zài wôde xin zhong yôngyuân ài nî
In my heart there is love for you forever
Dàn yuàn wô yê zài nî xin lî
I hope I am in your heart too

(Repeat chorus)
---
Track 4: Jun xin wô xin (Your heart, my heart)
Lyrics: An somebody
My wife's favorite song. The falling flowers, by the way, are a frequent poetic metaphor for a bad situation.

(verse 1)
Duoshâo qingchén
How many dawns
Duoshâo huánghun
How many dusks
Yiduàn jiù qíng
One old affair
Cháng guà wô xin
frequently hangs on my heart
Jîxû liang chén
A little good times
Jîxû mêijîng
A little scenery
Qià sì chong mèng
Our harmony, like waking from a dream
Xiaoshì wú hén
Vanished away without a trace

Nî gêi wôde wenxíng
Your warm feelings for me
Yîjing binglêng
Are already icy
Sù qíngde xiâo jìng
On the trail that tells of our love
Luòhua binfen
The flowers fall and scatter

(verse 3)
Dúbâ qínsi bonòng
Alone, I touch the strings
Yi zhèn gêngyè
And burst into sobs
Zhîyào xiâng qî nî
Whenever I think of you
Yòu ài yòu hèn
I love and I hate
Jun xin wô xin
Your heart, my heart
Bù néng gòngmíng
They no longer resonate together
Kègûde qíng
A deep-rooted, unforgettable feeling
Míng xin chéng hèn
Carved on my heart, turned to hate

(Repeat verse 1, then verse 3)
---
Track 1: Xuê zhong lián (Lotus in the snow)
Lyrics: Huáng Mîn
Translation: Dexter Tay

(verse 1)
Xuêhua piao
Snowflakes drift
Piao qîle duoshâo àiliàn
Bringing with them so many memories of love
Xuêhua fei
Snowflakes fly
fei qîliâo duoshâo qíngyuán
Bringing with them so many stories of love

Liánhua kai zài xuê zhongjian
The lily blooms in the middle of the snow
Duoshâode xiwàng, duoshâode xinyuàn
So much hope, so many wishes
Mòmò dêngdài you qíng rén
Sombrely wait for the one who has my love
Dàn yuán qíng yì yông bú biàn
Hoping that the feelings will never change

Xuêhua piànpiàn fei
Snowflakes endlessly fly
Fei mân tian
and fill the sky

(Repeat verse 1)

Wângshì rú mèng sì yúnyan
The past seems like a dream long gone
Duoshâode tiánmì, duoshâode huáiniàn
So much sweetness, so much longing
Zòngrán xiang gé nàme yuân
Though it seems so far away now
Zhenqíng yông zhù zài xin tián
True love stays forever in my heart

Xuêhua piànpiàn fei
Snowflakes endlessly fly
Fei mân tian
and fill the sky
---
Track 3: Dàn yuàn rén chángjiû (May we live long enough)
Translation: Dexter Tay
The lyrics come from an ancient poem by a famous Chinese poet, Su Shì. The poet is sad, anguished, and drinking, because he is separated from his lover. He contemplates the moon, asking when it is ever clear and round, symbolizing happiness and the reunion of lovers; he consoles himself with the thought that his lover is gazing at the same moon. Ancient Chinese (wényán) is really a separate language, and not easy to translate. Here is the ending of the poem, in a very literal and then a free translation.
Rén yôu bei huan líhè
People have sadness/cheerful parting/meeting
Yuè yôu yin qíng yuán que
The moon has dark cloudless circle lacking
Cî shì gû nán quán
This matter ancient difficult wholly
Dàn yuàn rén chángjiû
Only wish person long time
Qian lî gòng chán juan
A thousand miles share beautiful abandonment
Life is about parting and coming together
The moon has times when it is not round
It has ever been difficult to manage this
Only wishing for eternity
No matter how far apart, it is happiness to see the same moon
---
Track 7: Jiârú wô shì zhende (If I were real)
Lyrics: Xin Yì
Translation: Dexter Tay

(verse 1)
Jiârú liú shuî néng huítóu
If the flowing waters could turn back
Qíng nî dài wô zôu
Bring me along with you
Jiârú liú shuî néng jieshòu
If the waters could accept
Bú zài fányou
I will no longer feel disturbed

(Repeat verse 1)

(verse 2)
Yôu rén xiànmù nî
Someone admires you
Zìyóu zìzàide liú
Flowing in your own freedom
Wô yuàn biàn zuò nî
How I wish I were you
Dàochù rènyì yóuyayóu
Flowing wherever I wanted to

(verse 3)
Jiârú liú shuî huànchéng wô
If I were the flowing waters
Yê yao lèi ér liú
I would still shed tears
Jiârú wô shì qíng liú shuî
If I were the clear flowing waters
Wô yê bù húitóu
Like you, I would not look back

(Repeat verses 2, then 3)
---
Track 13: Yuánxiang qinnóng (Love of home is strong)
Lyrics: Weng Qingxi
Some cultural notes (thanks to Eugene Jin for all these):
Speaking of lovers as brother and sister (more precisely, ge 'older brother' and mèi 'younger sister') is common in Chinese poetry.
In Chinese, if your beloved's heart is 'hard' it means that they don't return your love. I haven't attempted to find a closer equivalent because I wanted to keep the wordplay.
The particle le used here doesn't really change the meaning; but it adds a reflective quality to the poem-- typical of Faye's music. A more exciting mood could be achieved with particles like ei, a.
The Chinese like to write that their hearts are 'at one' rather than coming out and speaking directly of love.
Shanshàng yôu lù
Up on the mountain there's a road
Lù nán xíng le, wan wan qu qu
A difficult road to walk, zig-zagging
Yi céng yòu yi céng le
One step after another
Xiâoge yào qùkàn xiâomèi le
Older brother wants to go see little sister
Bú pà shangao lù bùpíng le
He's not afraid that the mountain is high and the road is bumpy
Shanshàng shítóu dà yòu yìng le.
The rocks up the mountain are large and hard
Waiwai dâodâo
Crooked and at all angles
Yi céng yòu yi céng le
One step after another
Xiâoge bú pà yìng shítóu le
Brother isn't afraid of the hard rocks
Zhî pà xiâomèi xincháng yìng le
He's only afraid that his sister's heart will be hard
Lùbian yéshù, gao yòu gao le
At the roadside is a coconut tree, very high
Fengchui yéshù, yi yáo yòu yi yáo le
A breeze stirs the tree; it trembles and trembles
Xiâomèi ài ge shentî zhuàng le
Little sister loves brother's strong body
Ge ài xiâomèi shen miáotiáo le
Brother loves little sister's slender body
Xiangjiao shùshàng jie xiangjiao le
Up in the banana tree there are bananas
Shùshàng xiangjiao, yi tiáo yòu yi tiáo le
Bananas up in the tree, one after another.
Ge hé xiâomèi yi tiáo xin le
Brother and little sister are one in their heart
Xiâomèi hé ge xin yi tiáo le
Little sister and brothers' hearts are one.
---
Eyes on Me from Final Fantasy VIII
Music by Uematsu Nobuo; sightly ungrammatical lyrics by Someya Kako [surnames first]
Faye sings this song in English, but I've provided the Chinese lyrics provided on the Chàng yóo da shìjiè Disc 2 album, as well as a more literal English translation (since I find minor differences of this sort interesting). Thanks again to Eugene Jin for his kind help.

E.g. I'm fairly sure that the Chinese lyrics are a translation of the English, and that the translator made one error, interpreting 'kind' as 'nice' rather than 'type'. This makes the Chinese version of that line rather more equivocal in meaning. I also find it interesting that the English title of the song doesn't directly appear in the Chinese version.

These lyrics, though 'official' are not singable. Felix Wan has kindly provided me with a Chinese version that can be sung.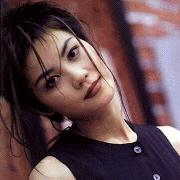 Whenever sang my songs
Wúlùn héshí wôchàng de geqû
What songs I sing, at any time
On the stage, on my own
Zài wûtái shàng huòshì wô zìjî
whether on stage or by myself
Whenever said my words
Wúlùn héshí wô shuo de huàyû
What words I say, at any time
Wishing they would be heard
Xiwàng tamen dou néng bèi tingjian
(I) hope they all can be heard
I saw you smiling at me
Wô kànjian nî duì wô wéixiào
I see you smiling at me
Was it real or just my fantasy
Shì zhen háishì huàn
Is it real or is it fake
You'd always be there in the corner of this tiny little bar
Nî yông yuân zài nà xiâoxiâo ba tái de nâge jiâo lùo
You are always at the tiny bar table in the corner
My last night here for you
Zhè shì wô wèi nî liú cî de zuìhòu yi yè
This is the last night I remain here for you
Same old songs
Mêihâo de lâo ge
Beautiful old songs
Just once more
Yòu zài chóng xiàn
Reappearing again
My last night here with you
Wô zài cî de zùi hòu yi yè jiang hùihé nî yi qî
My last night to be here with yoú
Maybe yes, maybe no
Hùoxû shì hùoxû bù shì
Perhaps yes, perhaps not
I kind of liked it your way
Wô gòu réncí dì qù xîhuan nîde fangshì
I did you a kindness, liking this way of yours
How you shyly placed your eyes on me
Dang nî kànzhe wô shì duo me dânqiè o
When you are looking at me, you are so shy
Did you ever know that I had mine on you
Nî kêcéng zhidào wô shì zàihu de
Did you ever know that I do care
Darling, so there you are
Qinàide shì de nî zài nàr
Dearest, yes, you are there
With that look on your face
Yî na zhông yânguang kàn nîde liân
With your face showing that way of looking (maybe!)
As if you never hurt
Fângfú nî cóngwèi bèi shanghài
Seemingly you are never hurt
As if you're never down
Fângfú nî cóngwèi xiànluò
Seemingly you are never lost
Shall I be the one for you
Wô shì fôu wèi nî biànchéng qí zhong de mòyàng
If I became someone like that for you
Who pinches you softly but sure
Shî nî shòu wenróu de kû què yê shì zhen què de kû
But making you feel the pain of tenderness is real pain
If frown is shown then
Rúguô cùé biâoshì
If you show a wrinkled brow
I will know that you are no dreamer
Wô jiang huì zhidào nî bù shì mèngjìng
I will be able to know you are not a dream
So let me come to you
Suôyî ràng wô lái dào nî shentî
So let me come to your side
Close as I want to be
Jìn dào rú wô suô yuàn
As close as I want
Close enough for me
Duì wô ér yán yúgòu de jìn
Close enough to me
To fell your heart beating fast
Qù hùojué nîde xinji jiasù
To feel your heart speeding up
And stay there as I whisper
Dang wô duì nî êryû qîng tínglíu zài nàlî
When I whisper to you please stay there
How I love your peaceful eyes on me
Wô duo ài nî pínghé de yânshén kànzhe wô
I love your peaceful cast of eye so much
Did you ever know that I had mine on you
Nî kêcéng zhidào wô shì zàihu de
Did you ever know that I do care
So share with me
Suôyî qîng yû wô fenxiâng
So please share with me
Your love if you have enough
Rúguô nîde ài yîjing tíngzhî
If your love has waned
Your tears if you're holding back
Rúguô nîde yânlèi wú fâ wânhúi
If I cannot make up for your tears
Or pain if that's what it is
Huòshì rúcî zhè ban de tòngkû
Or if you're so much in pain
How can I let you know
Wô zên néng ràng nî míngbái
How can I let you understand
I'm more than the dress and the voice
Wô bù zhîshì rú nî sûo jiàn sûo ting
I'm not only what you see and hear
Just reach me out then
Zhîyào hâohâo hùoshòu wô
As long as you seriously feel me
You will know that you're not dreaming
Nî jiang zhidào nî bìngfei zài mèngjìng
You will understand you're not in a dream
Repeat chorus
---
Yânshén (Eyes on me, lit. 'Eye-expression') - Chinese singable version
Here's another Chinese version of the song, translated by Felix Wan, which unlike the version above can be sung to the song. The original English lyrics are repeated, then the Chinese, then a literal translation back to English.
Whenever sang my songs
Mêidang gechàng xin qû
Whenever (I) sing song of (my) heart
On the stage, on my own
Zài tái shàng zài ànzhong
On the stage, in the dark (also idiom for "behind the scenes")
Whenever said my words
Mêidang qingsù yányù
Whenever (I) pour out words
Wishing they would be heard
Wô kêwàng yôu tingzhòng
I desire to have listeners
I saw you smiling at me
Wô kànjiàn nî duì wô weixiào ("kànjiàn" in the beat of "saw")
I see you smiling at me
Was it real or just my fantasy
Nà shì zhenshí de hái shì huànmèng
Is that real or is it fantasy
You'd always be there in the corner
Nî zôngshì zuò zài nàge jiâoluò
You always sit at that corner
Of this tiny little bar
Zài zhè xiâoxiâo jiûba zhong
Inside this little bar

My last night here for you
Wèi nî zuìhòu yi yè
The last night for you
Same old songs, just once more
Jiù geqû yòu chóngfù
Old songs again repeat
My last night here with you
Péi nî zuìhòu yi yè
The last night with you
Maybe yes, maybe no
Yêxû shì, yêxû bù
Maybe yes, maybe no
I kind of liked it your way
Wô yôudiân xîhuan nî nàyàng ("yôudiân" in the beat of "kind")
I kind of like you that way (/your kind of)
How you shyly placed your eyes on me
Kànzhe wô nà hàixiu de yânshén
Shy eye-expression looking at me
Did you ever know that I had mine on you
Nî shìfôu kànjiàn wô tóngyàng de yânshén
Do you see my same kind of eye-expression?

Darling, so there you are
Qin'àide jiù zài yân qián ("qin" in the up-beat before "darling")
(My) dearest is right before (my) eyes
With that look on your face
Liân shàng nàge biâoqíng
That appearance (/expression) on your face
As if you never hurt
Fângfú cóng bù shòushang
Seems have never been hurt
As if you're never down
Fângfú cóng bù youyù
Seems have never been depressed
Shall I be the one for you
Kê fôu ràng wô lái wèi nî
Could (you) let me come (/to do this) for you:
Who pinches you softly but sure
Qing nie nîde liân lái quèdìng
Softly pinch your face to make sure
If frown is shown then
Ruò nî zhòu méitóu
If you frown
I will know that you are no dreamer
Wô jiù zhidào nî bùshì zuòmèng
Then I know that you are not dreaming

So let me come to you
Ràng wô dào nî shenpáng
Let me come to your side
Close as I want to be
Suíyì de kàojìn nî
Draw near to you according to my will
Close enough for me
Zhídào wô gânjué
Until I feel
To feel your heart beating fast
Nî xin xingfèn de tiàodòng
The excited beats of your heart
And stay there as I whisper
Weisheng shuo hédêng ài nî
(I) whisper how I love you
How I love your peaceful eyes on me
Kànzhe wô nà píngjìng de yânshén
(Your) peaceful eye-expression looking at me
Did you ever know that I had mine on you
Nî shìfôu kànjiàn wô tóngyàng de yânshén
Do you see my same kind of eye-expression?

Darling, so share with me
Qin'àide, ràng wô tóng xíng ("qin" in the up-beat before "darling")
(My) dearest, let me walk with you
Your love if you have enough
Tóng xiâng nî mânzú àiqíng
Enjoy together your satisfied love
Your tears if you're holding back
Tóng liú nî qiâng rên yânlèi
Shed together your tear withheld with effort
Or pain if that's what it is
Tóng shòu nî nányán tòngkû
Receive together your inexpressible pain
How can I let you know
Zênyàng ràng nî míngbái
How to let you understand
I'm more than the dress and the voice
Wô bù zhîshì wàibiâo shengyin
I am not only outward appearance (and) voice
Just reach me out then
Jîn wo wô shuangshôu
Tightly hold my hands
You will know that you're not dreaming
Nî jiù zhidào nî bùshì zuòmèng
Then you know that you are not dreaming
---